A mini biography isn´t easy to write, but I´ll try out:
Athens
I was born Thur Aug 28 1958 late afternoon, so I've been around for a while.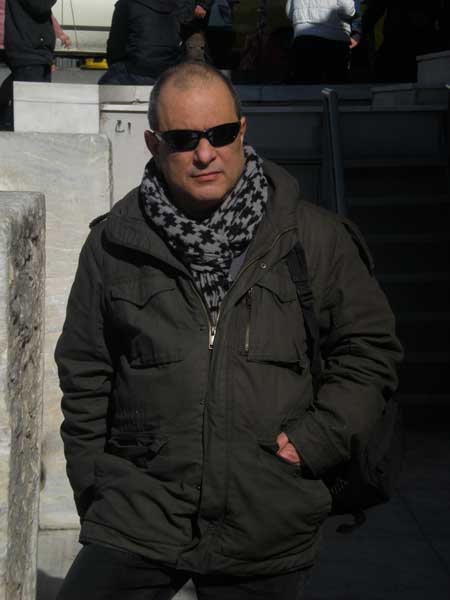 My birthplace is Athens, Greece, but I have been moving around a lot since then.
Sweden
Sweden became early my second home country where I soon learned the language and finished elementary school.
As a young student I tried various faculties,and moved between plenty of cities and foreign countries. My interests at that time was travel, literature and music. My extended music-list is a kind of biography itself.
Amorgos
They say that a Cycladic island can change your entire life. This was about what happened to me when I finally found my way to the island of Amorgos, harbour of Aigiali, in the summer of 1982. A new era in life had just begun.
IRIE – Athenian reggae
The visit on the island soon led to the formation of a reggae-group, one of the first such in the entire country. Irie was a short-lived but intense and popular reggae-group. Our extremely popular live performances 1984-87 in Athens city are still remembered as great floor-shaking events.
Magic Turtle – Fine Art, Gems and Jewelry
After a quite turbulent time, I finally settled for many years on Amorgos raising a family and making small businesses. The boutique of Magic Turtle in the Greek Archipelago was alive between 1989 – 2001. It was not only a shop for fine art and handmade jewellery, but also a vibrant venue for artists and craftsmen from all over the world, a creative platform especially for ceramists and goldsmiths.
Journalism and literature
At that time I was also translating literature and worked as a freelance journalist at various newspapers, magazines and radio stations.
Internet
It was then – in the 90's – I first came in contact with computers and soon discovered Internet. I was immediately getting fascinated by the seemingly unlimited possibilities it had to offer!
Web Development
A few years later, after moving back to Sweden, I found myself at high-schools and universities, studying those beloved subjects from a closer range. In 2014 I did acquire a Bachelor of Science in Computer Engineering/Web Development – specialized on Web Usability.
ÖstbergaTV
In the meanwhile in Stockholm was also from scratch building up the channel ÖstbergaTV – a project supporting young peoples creativity in TV, film and other media.
And the story still goes on…
The posts on
my blog
are reflecting different facets of all the sphere of my interests. Such are: computer and web issues (of course), travels, excurses but also a great variety of other issues that I find constructive and interesting. Astronomy, Music, Yoga, are many of those.